In Memory
Madeline McCorkle (Allen)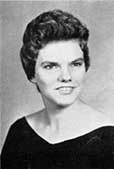 Madeline McCorkle Allen
Madeline McCorkle Allen
Ms. Allen, 67, of Charlotte, NC passed away on February 18, 2011 at the Brian Center. She was born on September 1, 1943 in Charlotte, a daughter of the late George Dewey and Velma Helms McCorkle. She was also predeceased by brothers, Gene, Bobby, Lewis and Leonard McCorkle and sister, Sue McCorkle Clifton.
Madeline was a loving and caring sister and aunt.
She graduated from Harding High School in 1961.
Madeline is survived by her brothers, Richard McCorkle of Charlotte, Doug and wife, Jackie, of Waxhaw, sisters, Carol McCorkle Sharpe of Charlotte and Judy Mc Aulay and husband, John, of Huntersville; and numerous nieces and nephews.
A service by the graveside will be held at 2 p.m. on Monday at Sharon Memorial Park with the Reverend Jay Weigel officiating.
The family would like to thank Dr. Arun Grover and his staff at the Brian Center and Presbyterian Palliative Care Nurse Heather Johnston for their wonderful care.
Memorial contributions may be made to Glenwood ARP Presbyterian Church, 5024 Freedom Dr., Charlotte, NC 28208, or to the American Diabetes Association , P.O. Box 13067, Alexandria, VA 22312.
Harry & Bryant is serving the family, www.harryandbryantfuneralhome.com.
Published in Charlotte Observer on February 20, 2011