Harry P Harding

High School




Class Of 1961
We are saddened to learn that our classmate, Barbara Manus, lost her husband to death on Wednesday, December 26, 2018. His obituary follows:
Kenneth Lamar Carmack (1940 - 2018) Kenneth "Pops" Lamar Carmack, 78, of Davidson, NC, passed away on Wednesday, December 26, 2018, at his home. He was born November 28, 1940, in Richlands, NC, to the late Raymond Pollock Carmack and Rochie Phillips Carmack. In addition to his parents, he is preceded in death by sisters, Esther, Martha & Edna and brother, Raymond. Pops enjoyed gardening and bird watching. He especially loved having his grandchildren around him. He worked at Davidson College and retired from Wake Forest University. He was a systems analyst/computer programmer. He proudly served his country in the US Army Reserves. Pops is survived by his loving wife of 53 years, Barbara Manus Carmack; children, Kenneth L. Carmack, II, & wife, Amie and their children, Sara Grace and Allie; Major Keith Carmack & wife, Shannon and their children, Cody, Cole and Gavin; Leigh Anne Thornhill and husband, Doug, and their children, Gregory and Sidney; Kurt Carmack and wife, Erica, and their children, Grady, Audrey and Kelsey; Elizabeth "Lizzie" Carmack and her caretaker, Ann McCorkle; sisters, Mavis Jarman, Sarah Rhodes and Marjorie Harris and brother, Everette Carmack. Services will be held on Sunday, December 30 at 4:00 PM in the Chapel of Cavin-Cook Funeral Home with Rev. Michael Lashley officiating. Visitation for family and friends will be one hour prior to the service from 3:00 - 4:00 PM. In lieu of flowers, memorials may be made to Nevins, Inc., 3523 Nevins Rd., Charlotte, NC 28629 - nevinsinc.org, the school for individuals with developmental disabilities, where Pops' youngest daughter, Lizzie, attends. Cavin-Cook Funeral Home and Crematory, Mooresville, is serving the Carmack family. Condolences may be sent to the family at www.cavin-cook.com.
---
---
Obit for Lewis Reid Justice (1943 - 2018) Lewis was born in Mooresville, NC on March 3, 1943 and passed away in the care of Novant Hospice on December 23, 2018. His parents were Robert and Martha Justice. The family moved to Charlotte from Mooresville, NC at a very early age where he lived all of his life. Lewis attended Charlotte public schools....Harding, and CPCC. He enlisted in the US Navy in 1960 and served four years aboard the destroyer USS John W. Weeks (DD701). He was a machinist mate 3rd class. Lewis was honorably discharged in 1964. After leaving the Navy, he very much enjoyed attending the ship reunions of the John W. Weeks and reuniting with fellow shipmates. Once back in civilian life, Lewis went into training at Mooresville Electric Motor Service with his father, Robert. After his father's retirement, Lewis continued to run the company and in 1978 founded a second company, Justice Industrial Drives. He was a 32nd Degree Mason and belonged to the Scottish Rite and a member of the Shrine. Lewis loved to fish and hunt with friends. One of his greatest pleasures was maintaining contact with his many good friends. He adored his grandson, Reid and was blessed to see his month old granddaughter, Abby after her recent birth. Lewis had a smile on his face and by doing so he made others smile. He was predeceased by his father Robert and mother Martha. He is survived by his son Jason, his wife Lindsey and two grandchildren Reid and Abby. He is also survived by Jason's mother, Linda Justice. Lewis is also survived by his longtime companion and most loved best friend, Dillie Matthews. Lewis leaves behind many dear friends who loved him for his wonderful sense of humor and will be greatly missed by all who loved him. A visitation will be held at McEwen Funeral Service at Sharon Memorial Park located at 5716 Monroe Road in Charlotte on Saturday, December 29th from 11-1pm followed by a 1pm funeral service. Interment will immediately follow at Sharon Memorial Park. Condolences may be left for the family at www.McEwenFS.com. McEwen Funeral Services
---
---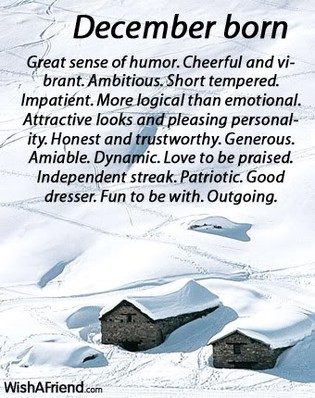 ---
---
---
IF ANY OF OUR CLASSMATES HAVE INFORMATION THAT YOU WOULD LIKE TO SHARE ON THIS WEBSITE, OR KNOW OF ANY INFORMATION ON ANOTHER CLASSMATE THAT YOU WOULD LIKE TO SHARE, PLEASE NOTIFY ALONA SO YOUR INFORMATION CAN BE PUBLISHED FOR ALL TO SEE. THIS IS A GREAT WAY TO KEEP IN CONTACT WITH PERTINENT INFORMATION, AND KEEP US IN TOUCH!
---
---

...and one final post...
That no-fail recipe for a New Year!
RECIPE FOR A HAPPY NEW YEAR
Take twelve whole months.
Clean them thoroughly of all bitterness,
hate, and jealousy.
Make them just as fresh and clean as possible.
Now cut each month into twenty-eight, thirty, or thirty-one different parts,
but don't make up the whole batch at once.
Prepare it one day at a time out of these ingredients.
Mix well into each day one part of faith,
one part of patience, one part of courage,
and one part of work.
Add to each day one part of hope,
faithfulness, generosity, and kindness.
Blend with one part prayer, one part meditation,
and one good deed.
Season the whole with a dash of good spirits,
a sprinkle of fun, a pinch of play,
and a cupful of good humor.
Pour all of this into a vessel of love.
Cook thoroughly over radiant joy,
garnish with a smile,
and serve with quietness, unselfishness,
and cheerfulness.
You're bound to have a happy new year.
~ Author Unknown ~
---
---
IF YOU ARE A CURRENT MEMBER OF THE HARDING HIGH SCHOOL ALUMNI ASSOCIATION, OR IF YOU ARE INTERESTED IN JOINING OR SUPPORTING THE ORGANIZATION, THE ANNUAL MEMBERSHIP DUES OF $15 ARE DUE BY JANUARY 1st EACH YEAR. YOUR CHECK SHOULD BE MADE PAYABLE TO HHSAA, AND MAILED TO ANNE JENKINS MILLER, 2915 KANIMELA DRIVE, CHARLOTTE, NC 28214-2707.
---
---
HARDING HIGH SCHOOL ALUMNI ASSOCIATION
As you are probably aware, there is an organization of Harding High School graduates (HHSAA) which has been in existence for many years. The organization consists of graduates from 1938-1965. There are six meetings of the group every year, and the annual membership fee is $15. Each luncheon is paid for individually by pre-registering for each at a cost of $12. The meetings are held at Pritchard Memorial Baptist Church in Charlotte. The next meeting will be on THURSDAY, FEBRUARY 21st. Doors open at 11:00 a.m., and lunch is served at 12:00 noon. You may come as a guest even if you are not a member, and enjoy seeing many, many classmates. Pre-registration for the luncheon is required so that the catering company has the correct number. If you plan to attend the luncheon, you MUST call Melissa Tallman Miller at 704/552-6027 by FRIDAY, FEBRUARY 15th to make your reservation. THE COST OF THE LUNCH IS PAYABLE AT THE DOOR.
NOTE: If you make a reservation for the luncheon and are unable to come for any reason, you are responsible for paying $12 to the HHSAA.
YOUR ANNUAL DUES CAN BE PAID AT THE DOOR IF YOU ARE ATTENDING THE LUNCHEON ON DECEMBER 15TH.
---
---
PICTURES AND MEMORABILIA
---
---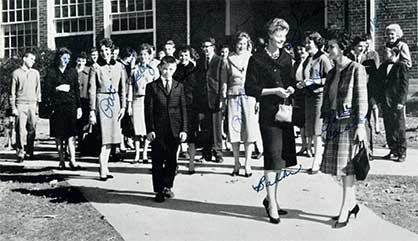 Greggettes Club
Gathering in front of Harding
---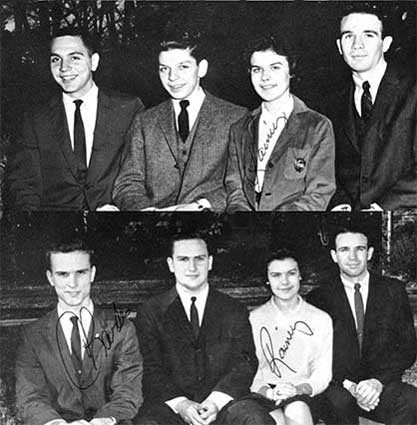 Our Senior Class Officers 1960-1961
---
---