Harry P Harding

High School




Class Of 1961
---
---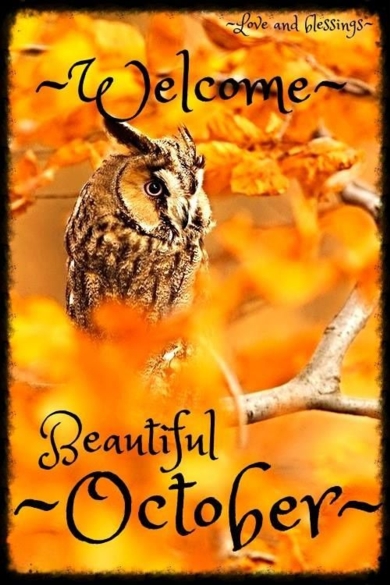 ---
---
THE ANNUAL HARDING/WEST REUNION AT OCEAN DRIVE BEACH HAS BEEN CANCELLED FOR THIS YEAR DUE TO THE PANDEMIC. THIS IS VERY DISAPPOINTING FOR MANY, BUT A WISE DECISION. STAY SAFE EVERYONE!
---
---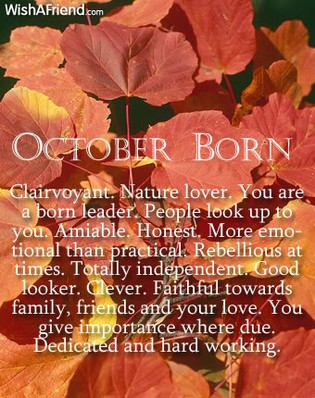 ---
---
---
N O T I C E, JOIN IN THE FELLOWSHIP!!
THE NEXT HARDING HIGH SCHOOL ALUMNI ASSOCIATION LUNCHEON WAS SCHEDULED FOR WEDNESDAY, OCTOBER 17. IT HAS BEEN CANCELLED ONCE AGAIN DUE TO COVID-19.
WE ARE CERTAINLY HOPEFUL THAT WE ARE ABLE TO HAVE THE ANNUAL CHRISTMAS LUNCHEON ON WEDNESDAY, DECEMBER 16, 2020, AT PRITCHARD MEMORIAL CHURCH, 1117 SOUTH BOULEVARD, CHARLOTTE, NC 28214. THE COST OF THE LUNCHEON AND ENTERTAINMENT IS $15 PAYABLE AT THE DOOR. RESERVATIONS ARE NECESSARY BY FRIDAY, DECEMBER 11TH AT NOON, SO THAT THE CHURCH CAN GIVE A FINAL COUNT TO THE CATERER. (If you make a reservation and are unable to attend, you are responsible for payment.)
TO MAKE YOUR RESERVATION, PLEASE TELEPHONE MELISSA TALLMAN MILLER AT 704/552-6027 OR AT MTMILLER@MSCENG.COM.
THE LUNCH IS SERVED AT NOON; HOWEVER, GATHERING EARLY ALLOWS MORE TIME FOR DELIGHTFUL SOCIALIZING!!
P L E A S E N O T E
GOING FORWARD, ALL HHSAA LUNCHEONS WILL BE HELD ON WEDNESDAYS RATHER THAN THURSDAYS!! THE CHURCH IS HOSTING A BIBLE STUDY ON THURSDAYS WHICH CONFLICTED WITH OUR LUNCHEON TIME; THEREFORE A CHANGE BECAME NECESSARY. OUR LUNCHEONS WILL NOW BE ON THE THIRD WEDNESDAY OF THE MONTH, RATHER THAN THURSDAY.

IF YOU ARE NOT A REGULAR ATTENDEE OF THE LUNCHEONS, PLEASE CONSIDER JOINING IN. IT IS A GREAT WAY TO STAY IN TOUCH WITH CLASSMATES, AND TO KEEP THE ORGANIZATION STRONG.
---
---
HARDING HIGH SCHOOL ALUMNI ASSOCIATION MEMBERSHIP
CLASSES OF 1938 - 1965
DUES ARE $15 PER YEAR, OR $100 LIFETIME MEMBERSHIP. YOU WILL RECEIVE BI-MONTHLY NEWSLETTERS--"HARDING HI-LITES"--WITH YOUR MEMBERSHIP.
IF YOU WOULD LIKE TO JOIN OR KNOW OF ANOTHER CLASSMATE WHO MIGHT BE INTERESTED, YOU WOULD MAKE YOUR CHECK PAYABLE TO HHSAA FOR $15/YEAR, AND MAIL TO: LYNN TEAGUE AT 1001-402 MARINA VILLAGE DRIVE, MOUNT HOLLY, N.C. 28120. BE CERTAIN TO INCLUDE YOUR NAME, ADDRESS, TELEPHONE NUMBER, AND YOUR GRADUATION YEAR FROM HHS.
IF YOU ARE CURRENTLY A MEMBER, REMEMBER TO SEND IN YOUR DUES, AS THE DEADLINE HAS PASSED, AND YOUR NAME WILL BE REMOVED FROM THE MAILING LIST TO RECEIVE THE "HI-LITES."
---
---
PICTURES AND MEMORABILIA
---
---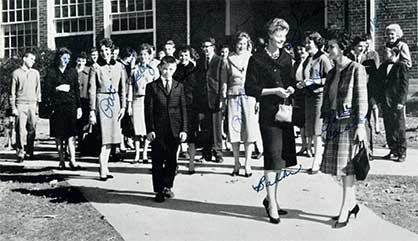 Greggettes Club
Gathering in front of Harding
---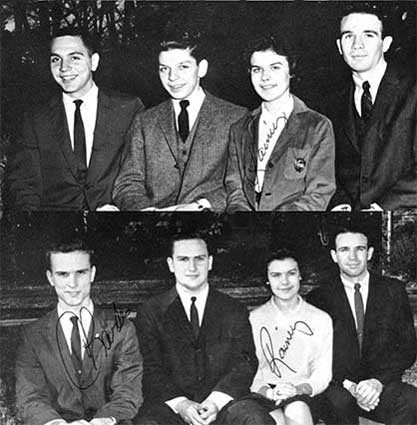 Our Senior Class Officers 1960-1961
---
---