Harry P Harding

High School




Class Of 1961
---
---
THE HHSAA IS HOPING TO BE ABLE TO RESUME LUNCHEONS IN MAY OR JUNE! THE WEBSITE WILL BE UPDATED WHEN THAT INFORMATION BECOMES AVAILABLE.
---
---
---
---
IF ANYONE HAS INFORMATION THEY WISH TO SHARE WITH THE CLASS, PLEASE NOTIFY aweddine@gmail.com. IT WOULD BE A GOOD TIME TO SHARE HOW YOU HAVE BEEN ABLE TO COPE WITH OUR RECENT MONTHS UNDER QUARANTINE!
---
---
WE ALL KNOW THAT SPRING IS ON THE WAY--YAY!!

---
---
P L E A S E N O T E
GOING FORWARD, ALL HHSAA LUNCHEONS WILL BE HELD ON WEDNESDAYS RATHER THAN THURSDAYS!! THE CHURCH IS HOSTING A BIBLE STUDY ON THURSDAYS WHICH CONFLICTED WITH OUR LUNCHEON TIME; THEREFORE A CHANGE BECAME NECESSARY. OUR LUNCHEONS WILL NOW BE ON THE THIRD WEDNESDAY OF THE MONTH, RATHER THAN THURSDAY.

IF YOU ARE NOT A REGULAR ATTENDEE OF THE LUNCHEONS, PLEASE CONSIDER JOINING IN. IT IS A GREAT WAY TO STAY IN TOUCH WITH CLASSMATES, AND TO KEEP THE ORGANIZATION STRONG.
---
---
HARDING HIGH SCHOOL ALUMNI ASSOCIATION MEMBERSHIP
CLASSES OF 1938 - 1965
DUES ARE $15 PER YEAR, OR $100 LIFETIME MEMBERSHIP. YOU WILL RECEIVE BI-MONTHLY NEWSLETTERS--"HARDING HI-LITES"--WITH YOUR MEMBERSHIP.
IF YOU WOULD LIKE TO JOIN OR KNOW OF ANOTHER CLASSMATE WHO MIGHT BE INTERESTED, YOU WOULD MAKE YOUR CHECK PAYABLE TO HHSAA FOR $15/YEAR, AND MAIL TO: LYNN TEAGUE AT 1001-402 MARINA VILLAGE DRIVE, MOUNT HOLLY, N.C. 28120. BE CERTAIN TO INCLUDE YOUR NAME, ADDRESS, TELEPHONE NUMBER, AND YOUR GRADUATION YEAR FROM HHS.
IF YOU ARE CURRENTLY A MEMBER, REMEMBER TO SEND IN YOUR DUES, AS THE DEADLINE HAS PASSED, AND YOUR NAME WILL BE REMOVED FROM THE MAILING LIST TO RECEIVE THE "HI-LITES."
---
---
PICTURES AND MEMORABILIA
---
---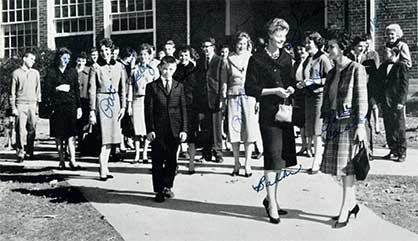 Greggettes Club
Gathering in front of Harding
---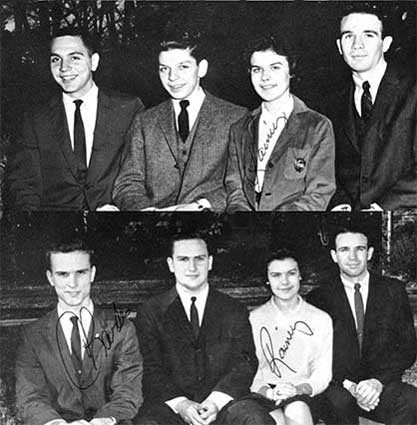 Our Senior Class Officers 1960-1961
---
---