Harry P Harding

High School




Class Of 1961
---
---
---
---
THERE IS ONLY ONE MORE LUNCHEON SCHEDULED FOR THE HHSAA ORGANIZATION; AND IS SCHEDULED FOR JUNE 21. READ MORE INFORMATION ON THE FOLLOWING POST. THIS ORGANIZATION HAS BEEN HIGHLY SUCCESSFUL, BUT WILL CEASE TO EXIST FOR REASONS MENTIONED.
---
---
THE HARDING HIGH SCHOOL ALUMNI ASSOCIATION HAS ACCOMPLISHED SEVERAL IMPORTANT THINGS IN THE PAST 26 YEARS, ONE OF WHICH IS THE HARRY P. HARDING SCHOLARSHIP FUND, HELPING SEVERAL HHS STUDENTS ATTAIN THEIR DREAM OF ATTENDING APPALACHIAN STATE UNIVERSITY.
THE ALUMNI BOARD HAS DECIDED NOT TO ACCEPT YEARLY DUES AS A WAY OF WINDING DOWN THE EVENTS OF THE ASSOCIATION. THERE WILL ONLY BE ONE MORE LUNCHEON; ON JUNE 21, WITH THE EMPHASIS BEING FELLOWSHIP AND COMRADERY. WE HOPE YOU WILL CONSIDER ATTENDING THE FINAL LUNCHEON, AND THAT ANY AND ALL HHS CLASSES WILL BE INTERESTED IN HOLDING LUNCHEONS, ETC. TO KEEP IN TOUCH GOING FORWARD.
IMPORTANT INFORMATION:
IF YOU ARE ABLE TO ATTEND THE LUNCHEON, YOU MUST MAKE A RESERVATION BY THURSDAY, JUNE 15TH FOR THE JUNE 21ST LUNCHEON, AND PAY $15 AT THE DOOR. PLEASE CALL MELISSA MILLER AT 704-552-6027 OR 704-912-9603.
RESERVATIONS ARE NECESSARY SO THAT THE CATERER HAS THE CORRECT NUMBER TO PREPARE FOR.
---
---
THE LUNCHEON WILL BE HELD AT PRITCHARD SOUTH END
(FORMERLY PRITCHARD MEMORIAL BAPTIST CHURCH)
LOCATED AT 1117 SOUTH BOULEVARD, CHARLOTTE, NC.
THOUGH LUNCH IS SERVED AT NOON, GATHERING EARLIER
ALLOWS MORE TIME FOR DELIGHTFUL SOCIALIZING! DOORS ARE OPEN AT 11:00 a.m.
THE COST OF THE LUNCHEON IS $15, PAYABLE AT THE DOOR.
(IF YOU MAKE A RESERVATION AND ARE UNABLE TO ATTEND, YOU ARE RESPONSIBLE FOR PAYMENT.)
---
---

IF IT HAS BEEN A WHILE SINCE YOU HAVE UPDATED YOUR INFORMATION ON THE WEBSITE, PLEASE CONSIDER TAKING A FEW MINUTES TO UPDATE YOUR PAGE. MANY CLASSMATES ARE ENJOYING WHAT OUR WEBSITE DOES IN HELPING US STAY CONNECTED. YOUR UPDATED INFORMATION IS A VERY VITAL LINK IN THAT PROCESS! THANK YOU.
---
---
---
---

HOPEFULLY EACH OF YOU ARE REACHING OUT TO CLASSMATES THROUGH THE WEBSITE OR BY OTHER MEANS. AS WE JOURNEY ALONG, RELATIONSHIPS WITH OTHERS ARE MOST IMPORTANT AND MEANINGFUL.
---
---
IF ANYONE HAS INFORMATION THEY WISH TO SHARE WITH THE CLASS, PLEASE NOTIFY aweddine@gmail.com. SOME OF OUR CLASSMATES HAVE HAD INTERESTING HOBBIES, EXPERIENCES, OR CAREERS, WITH STORIES THAT OTHERS WOULD BE VERY INTERESTED IN LEARNING ABOUT. THEY DON'T HAVE TO BE ELABORATE, BUT WOULD ADD GOOD CONTENT TO OUR WEBSITE FROM TIME TO TIME. PLEASE CONSIDER SHARING. YOU CAN SEND A NOTE TO ME AT MY EMAIL ADDRESS MENTIONED ABOVE.
---
---

---
---
---
---
PICTURES AND MEMORABILIA
---
---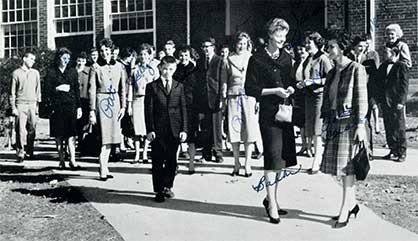 Greggettes Club
Gathering in front of Harding
---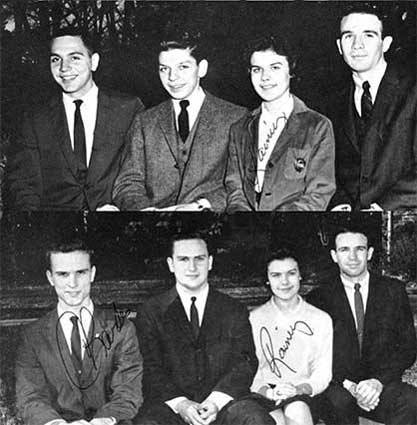 Our Senior Class Officers 1960-1961
---
---