Harry P Harding

High School




Class Of 1961
---
---
PLEASE NOTE !!
THE INFORMATION HERE COMES FROM "THE CHARLOTTE POST" DATED MAY 2, 2021. PLEASE IF YOU HAVE INFORMATION CONCERNING ANY OF VANN'S FAMILY, PLEASE CONTACT THE NUMBER GIVEN, OR ASK THE FAMILY MEMBER THAT YOU KNOW TO DO THE SAME. A CLASSMATE SAW THE MAY 2, 2021 ARTICLE IN THE CHARLOTTE POST, AND FORWARDED IT TO ME TO SHARE ON OUR WEBSITE.
Article #1 - Brownsville - Richard Vann Griffin 76, died Friday, May 1, 2020, at Brownsville, Texas. Any one with family information please call (956)399-1331 Thomae-Garza Funeral Home of San Benito is in charge of arrangements.
Published in Brownsville Herald on June 2, 2020.
Article #2 - Carlos Lara recommends The Charlotte Post (about 8 months ago) "im trying to locate family for mr richard vann griffin he got runover and kill on 5/1/2020 the police are trying to locate a family for burial I was his best friend mr. richard vann griffin was born 6/2/1943 he died 5/1/2020 please ihelp find his family my name is luis carlos lara vazquez my phone is long distance 0115218681156138."
---
---
---
---
P L E A S E N O T E !!
THE NEXT HARDING ALUMNI LUNCHEON AT 12:00 noon ON WEDNESDAY, JUNE 16, 2021 AT PRITCHARD SOUTH END (FORMERLY PRITCHARD MEMORIAL BAPTIST CHURCH) LOCATED AT 1117 SOUTH BOULEVARD, CHARLOTTE, NC.
THOUGH LUNCH IS SERVED AT NOON, GATHERING EARLIER ALLOWS MORE TIME FOR DELIGHTFUL SOCIALIZING! DOORS ARE OPEN AT 11:00 a.m.
THE COST OF THE LUNCHEON IS $15, PAYABLE AT THE DOOR.
RESERVATIONS ARE NECESSARY BY FRIDAY, JUNE 11, SO THAT THE CHURCH CAN GIVE A FINAL COUNT TO THE CATERER. TO MAKE A RESERVATION, PLEASE TELEPHONE MELISSA TALLMAN MILLER AT 704-552-6027, OR AT MTMILLER@MSCENG.COM.
(IF YOU MAKE A RESERVATION AND ARE UNABLE TO ATTEND, YOU ARE RESPONSIBLE FOR PAYMENT.)
PLEASE WEAR A MASK AS YOU ENTER THE BUILDING.
---
---
IF ANYONE HAS INFORMATION THEY WISH TO SHARE WITH THE CLASS, PLEASE NOTIFY aweddine@gmail.com. IT WOULD BE A GOOD TIME TO SHARE HOW YOU HAVE BEEN ABLE TO COPE WITH OUR RECENT MONTHS UNDER QUARANTINE! SOME OF OUR CLASSMATES HAVE HAD INTERESTING HOBBIES, EXPERIENCES, OR CAREERS, WITH STORIES THAT OTHERS WOULD BE VERY INTERESTED IN LEARNING ABOUT. THEY DON'T HAVE TO BE ELABORATE, BUT WOULD ADD GOOD CONTENT TO OUR WEBSITE FROM TIME TO TIME. PLEASE CONSIDER SHARING. YOU CAN SEND A NOTE TO ME AT MY EMAIL ADDRESS MENTIONED ABOVE.
---
---

---
---
P L E A S E N O T E
GOING FORWARD, ALL HHSAA LUNCHEONS WILL BE HELD ON WEDNESDAYS RATHER THAN THURSDAYS!! THE CHURCH IS HOSTING A BIBLE STUDY ON THURSDAYS WHICH CONFLICTED WITH OUR LUNCHEON TIME; THEREFORE A CHANGE BECAME NECESSARY. OUR LUNCHEONS WILL NOW BE ON THE THIRD WEDNESDAY OF THE MONTH, RATHER THAN THURSDAY.

IF YOU ARE NOT A REGULAR ATTENDEE OF THE LUNCHEONS, PLEASE CONSIDER JOINING IN. IT IS A GREAT WAY TO STAY IN TOUCH WITH CLASSMATES, AND TO KEEP THE ORGANIZATION STRONG.
---
---
HARDING HIGH SCHOOL ALUMNI ASSOCIATION MEMBERSHIP

CLASSES OF 1938 - 1965

DUES ARE $15 PER YEAR, OR $100 LIFETIME MEMBERSHIP. YOU WILL RECEIVE BI-MONTHLY NEWSLETTERS--"HARDING HI-LITES"--WITH YOUR MEMBERSHIP.

IF YOU WOULD LIKE TO JOIN OR KNOW OF ANOTHER CLASSMATE WHO MIGHT BE INTERESTED, YOU WOULD MAKE YOUR CHECK PAYABLE TO HHSAA FOR $15/YEAR, AND MAIL TO: LYNN TEAGUE AT 1001-402 MARINA VILLAGE DRIVE, MOUNT HOLLY, N.C. 28120. BE CERTAIN TO INCLUDE YOUR NAME, ADDRESS, TELEPHONE NUMBER, AND YOUR GRADUATION YEAR FROM HHS.

IF YOU ARE CURRENTLY A MEMBER, REMEMBER TO SEND IN YOUR DUES, AS THE DEADLINE HAS PASSED, AND YOUR NAME WILL BE REMOVED FROM THE MAILING LIST TO RECEIVE THE "HI-LITES."


You must be logged in to submit this survey. Please use the login box in the upper right corner.


1)
* Are you hopeful that we will have another class reunion, and you are interested in attending if at all possible?

Yes No
Our 1961 Harding graduating class was of historical nature, since we were the last graduating class of the "Old" Harding. That is rather special, don't you think?

This being the "winter season" of our lives, it may be the last time that an actual reunion is planned, so please give serious thought to these questions before answering, and PLEASE RESPOND AT YOUR VERY EARLIEST CONVENIENCE so that a committee can be formed and move forward as a result of the answers we receive. You will be notified of the results of this inquiry as soon as we are able to do so. Thank you!
2)
* If interested in attending, would your preference be for a formal sit-down dinner with a program of some sort?

Yes No
3)
* If interested in attending, would your preference be for a finger-food buffet type meal with mostly socializing, and minimal program time?

Yes No
4)
* If interested in attending, would you prefer that the location of the event be at a hotel offering overnight accommodations?

Yes No
5)
* If interested in attending, would you prefer that the reunion be a two-evening event?

Yes No
6)
* If interested in attending, would you be in favor of combining with another Harding graduating class for a reunion, if necessary to meet numbers for the hotel requirements?

Yes No
7)
* If interested in attending, would your preference be for a fall reunion rather than spring?

Yes No
8)
* If interested in attending, and if determined that the event will be only for one evening, would you prefer that it be on a Saturday evening?

Yes No
---
---
PICTURES AND MEMORABILIA
---
---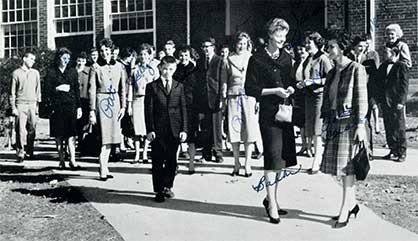 Greggettes Club
Gathering in front of Harding
---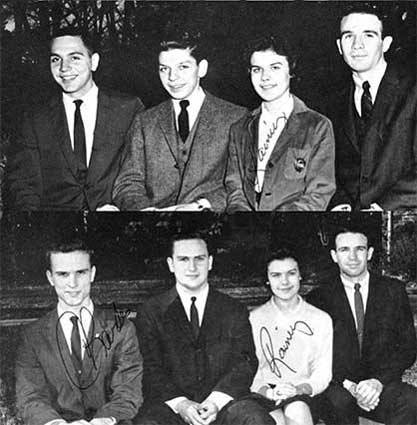 Our Senior Class Officers 1960-1961
---
---