Harry P Harding

High School




Class Of 1961
---
---
SHARING SOME GOOD NEWS!!
REMEMBER THE NEWS OF OUR 1961 HARDING CLASSMATE'S RING HAVING BEEN LOST AND THEN FOUND AT MT. MITCHELL? A PARK RANGER HAD FOUND THE RING IN A COLLECTION OF LOST AND FOUND ITEMS, AND BEGAN REACHING OUT TO FIND THE OWNER--LOWELL FRANCIS--A CLASSMATE OF OURS!!
I SPOKE WITH LOWELL RECENTLY TO LEARN MORE ABOUT THE EXPERIENCE. INTERESTINGLY, ABOUT FIFTEEN TO EIGHTEEN YEARS AGO, LOWELL HAD LOST THE RING AT A FATZ RESTAURANT IN MORGANTON, NC, LEAVING IT MISTAKINGLY AT THE SINK AFTER WASHING HIS HANDS. ABOUT FIFTEEN MINUTES LATER, HE REALIZED WHAT HE HAD DONE AND RETURNED TO RETRIEVE IT, BUT IT WAS NOT THERE, AND HAD NOT BEEN TURNED IN TO THE LOST AND FOUND AREA AT THE RESTAURANT.
HE REPLACED THE RING TWO MORE TIMES THROUGH THE YEARS, BUT HOPED THAT SOMEDAY THE ORIGINAL RING WOULD BE FOUND. WHAT IS MOST INTERESTING IS THE FACT THAT MT. MITCHELL IS ONE OF LOWELL'S MOST FAVORITE PLACES IN THE WORLD! THE FACT THAT SOMEONE HAD THE RING AND LOST IT THERE, AND IT WAS FOUND AND KEPT THERE FOR SOME UNKNOWN PERIOD OF TIME IS INCREDIBLE!! LOWELL IS THRILLED TO HAVE THE ORIGINAL RING BACK.
---
---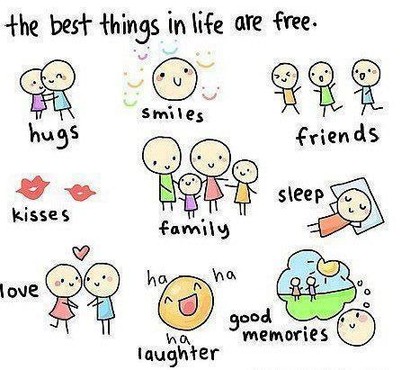 ---
---
THOUGHT FOR Today...
and Tomorrow....
If you want happiness for an hour
- take a nap.
If you want happiness for a day
- go fishing.
If you want happiness for a month
- get married.
If you want happiness for a year
- inherit a fortune.
If you want happiness for a lifetime
- help someone else.
Chinese Proverb

...Stretch Yourself...
Think Outside The Box...
---
---
P L E A S E N O T E !!
THE NEXT HARDING ALUMNI LUNCHEON AT 12:00 noon ON WEDNESDAY, AUGUST 18, 2021 AT PRITCHARD SOUTH END (FORMERLY PRITCHARD MEMORIAL BAPTIST CHURCH) LOCATED AT 1117 SOUTH BOULEVARD, CHARLOTTE, NC.
THOUGH LUNCH IS SERVED AT NOON, GATHERING EARLIER ALLOWS MORE TIME FOR DELIGHTFUL SOCIALIZING! DOORS ARE OPEN AT 11:00 a.m.
THE COST OF THE LUNCHEON IS $15, PAYABLE AT THE DOOR.
RESERVATIONS ARE NECESSARY BY WEDNESDAY, AUGUST 11, SO THAT THE CHURCH CAN GIVE A FINAL COUNT TO THE CATERER. TO MAKE A RESERVATION, PLEASE TELEPHONE MELISSA TALLMAN MILLER AT 704-552-6027, OR AT MTMILLER@MSCENG.COM.
(IF YOU MAKE A RESERVATION AND ARE UNABLE TO ATTEND, YOU ARE RESPONSIBLE FOR PAYMENT.)
WEARING A MASK IS OPTIONAL.
---
---
IF ANYONE HAS INFORMATION THEY WISH TO SHARE WITH THE CLASS, PLEASE NOTIFY aweddine@gmail.com. IT WOULD BE A GOOD TIME TO SHARE HOW YOU HAVE BEEN ABLE TO COPE WITH OUR RECENT MONTHS UNDER QUARANTINE! SOME OF OUR CLASSMATES HAVE HAD INTERESTING HOBBIES, EXPERIENCES, OR CAREERS, WITH STORIES THAT OTHERS WOULD BE VERY INTERESTED IN LEARNING ABOUT. THEY DON'T HAVE TO BE ELABORATE, BUT WOULD ADD GOOD CONTENT TO OUR WEBSITE FROM TIME TO TIME. PLEASE CONSIDER SHARING. YOU CAN SEND A NOTE TO ME AT MY EMAIL ADDRESS MENTIONED ABOVE.
---
---

---
---
P L E A S E N O T E
GOING FORWARD, ALL HHSAA LUNCHEONS WILL BE HELD ON WEDNESDAYS RATHER THAN THURSDAYS!! THE CHURCH IS HOSTING A BIBLE STUDY ON THURSDAYS WHICH CONFLICTED WITH OUR LUNCHEON TIME; THEREFORE A CHANGE BECAME NECESSARY. OUR LUNCHEONS WILL NOW BE ON THE THIRD WEDNESDAY OF THE MONTH, RATHER THAN THURSDAY.

IF YOU ARE NOT A REGULAR ATTENDEE OF THE LUNCHEONS, PLEASE CONSIDER JOINING IN. IT IS A GREAT WAY TO STAY IN TOUCH WITH CLASSMATES, AND TO KEEP THE ORGANIZATION STRONG.
---
---
HARDING HIGH SCHOOL ALUMNI ASSOCIATION MEMBERSHIP
CLASSES OF 1938 - 1965
DUES ARE $15 PER YEAR, OR $100 LIFETIME MEMBERSHIP. YOU WILL RECEIVE BI-MONTHLY NEWSLETTERS--"HARDING HI-LITES"--WITH YOUR MEMBERSHIP.
IF YOU WOULD LIKE TO JOIN OR KNOW OF ANOTHER CLASSMATE WHO MIGHT BE INTERESTED, YOU WOULD MAKE YOUR CHECK PAYABLE TO HHSAA FOR $15/YEAR, AND MAIL TO: LYNN TEAGUE AT 1001-402 MARINA VILLAGE DRIVE, MOUNT HOLLY, N.C. 28120. BE CERTAIN TO INCLUDE YOUR NAME, ADDRESS, TELEPHONE NUMBER, AND YOUR GRADUATION YEAR FROM HHS.
IF YOU ARE CURRENTLY A MEMBER, REMEMBER TO SEND IN YOUR DUES, AS THE DEADLINE HAS PASSED, AND YOUR NAME WILL BE REMOVED FROM THE MAILING LIST TO RECEIVE THE "HI-LITES."
---
---
PICTURES AND MEMORABILIA
---
---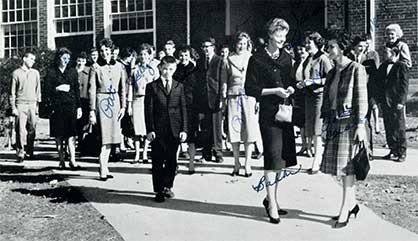 Greggettes Club
Gathering in front of Harding
---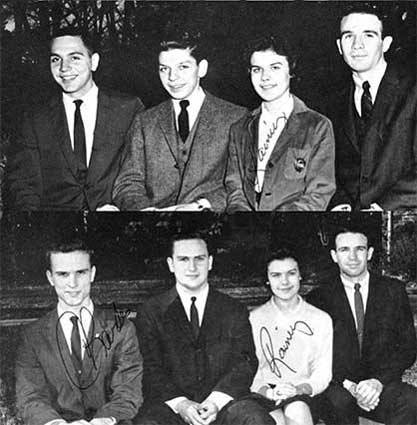 Our Senior Class Officers 1960-1961
---
---