Harry P Harding

High School




Class Of 1961
---
---
SADLY ONE OF OUR CLASSMATES, PAT LOVELACE MOORE, LOST HER YOUNGEST SON, SCOTT, TO DEATH IN THE WEE HOURS OF THE MORNING, OCTOBER 28TH, TO COVID-19 PNEUMONIA. HE HAD BEEN BATTLING THE ILLNESS FOR SEVERAL DAYS IN THE HOSPITAL, AND PAT WAS UNABLE TO VISIT HIM DURING THIS TIME. PLEASE KEEP PAT AND HER ENTIRE FAMILY IN YOUR THOUGHTS AND PRAYERS IN THE DAYS AND WEEKS AHEAD.
Pat's address is 6515 Mimosa Street, Indian Trail, 28079-9578.
---
---
I NOTE: IF IT HAS BEEN A WHILE SINCE YOU VISITED THE "HISTORY" TAB, YOU MIGHT ENJOY READING AGAIN (OR FOR THE FIRST TIME) SAM SMITH'S STORY ABOUT THE HISTORY OF HARDING HIGH SCHOOL. HE DID AN EXCELLENT JOB IN WRITING THIS STORY FOR OUR ENJOYMENT!!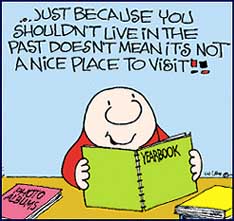 ---
---
HOPEFULLY EACH OF YOU ARE REACHING OUT TO CLASSMATES THROUGH THE WEBSITE OR BY OTHER MEANS. AS WE JOURNEY ALONG, RELATIONSHIPS WITH OTHERS ARE MOST IMPORTANT AND MEANINGFUL. MEMBERSHIP IN THE HHSAA WOULD BE A GREAT WAY TO SEE MANY HARDING RAM CLASSMATES FROM MANY DIFFERENT YEARS. MORE INFORMATION CONCERNING THE HHSAA IS FURTHER DOWN ON THIS PAGE. DECEMBER 15, 2021 IS THE NEXT LUNCHEON MEETING!!
---
---
---
---
P L E A S E N O T E !!
THE NEXT HARDING ALUMNI LUNCHEON AT 12:00 noon ON WEDNESDAY, DECEMBER 15, 2021
AT PRITCHARD SOUTH END (FORMERLY PRITCHARD MEMORIAL BAPTIST CHURCH) LOCATED AT 1117 SOUTH BOULEVARD, CHARLOTTE, NC.
THOUGH LUNCH IS SERVED AT NOON, GATHERING EARLIER ALLOWS MORE TIME FOR DELIGHTFUL SOCIALIZING! DOORS ARE OPEN AT 11:00 a.m.
THE COST OF THE LUNCHEON IS $15, PAYABLE AT THE DOOR.
RESERVATIONS ARE NECESSARY BY WEDNESDAY, DECEMBER 6, 2021 SO THAT THE CHURCH CAN GIVE A FINAL COUNT TO THE CATERER. TO MAKE A RESERVATION, PLEASE TELEPHONE MELISSA TALLMAN MILLER AT 704-552-6027, OR AT MTMILLER@MSCENG.COM.
(IF YOU MAKE A RESERVATION AND ARE UNABLE TO ATTEND, YOU ARE RESPONSIBLE FOR PAYMENT.)
WEARING A MASK IS MANDATORY.
---
---
---
---
IF ANYONE HAS INFORMATION THEY WISH TO SHARE WITH THE CLASS, PLEASE NOTIFY aweddine@gmail.com. IT WOULD BE A GOOD TIME TO SHARE HOW YOU HAVE BEEN ABLE TO COPE WITH OUR RECENT MONTHS UNDER QUARANTINE! SOME OF OUR CLASSMATES HAVE HAD INTERESTING HOBBIES, EXPERIENCES, OR CAREERS, WITH STORIES THAT OTHERS WOULD BE VERY INTERESTED IN LEARNING ABOUT. THEY DON'T HAVE TO BE ELABORATE, BUT WOULD ADD GOOD CONTENT TO OUR WEBSITE FROM TIME TO TIME. PLEASE CONSIDER SHARING. YOU CAN SEND A NOTE TO ME AT MY EMAIL ADDRESS MENTIONED ABOVE.
---
---

---
---
HARDING HIGH SCHOOL ALUMNI ASSOCIATION MEMBERSHIP
CLASSES OF 1938 - 1965
DUES ARE $15 PER YEAR, OR $100 LIFETIME MEMBERSHIP. YOU WILL RECEIVE BI-MONTHLY NEWSLETTERS--"HARDING HI-LITES"--WITH YOUR MEMBERSHIP.
IF YOU WOULD LIKE TO JOIN OR KNOW OF ANOTHER CLASSMATE WHO MIGHT BE INTERESTED, YOU WOULD MAKE YOUR CHECK PAYABLE TO HHSAA FOR $15/YEAR, AND MAIL TO: LYNN TEAGUE AT 1001-402 MARINA VILLAGE DRIVE, MOUNT HOLLY, N.C. 28120. BE CERTAIN TO INCLUDE YOUR NAME, ADDRESS, TELEPHONE NUMBER, AND YOUR GRADUATION YEAR FROM HHS.
IF YOU ARE CURRENTLY A MEMBER, REMEMBER TO SEND IN YOUR DUES, AS THE DEADLINE HAS PASSED, AND YOUR NAME WILL BE REMOVED FROM THE MAILING LIST TO RECEIVE THE "HI-LITES."
---
---
PICTURES AND MEMORABILIA
---
---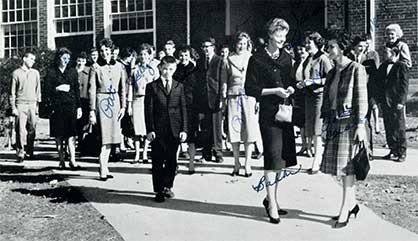 Greggettes Club
Gathering in front of Harding
---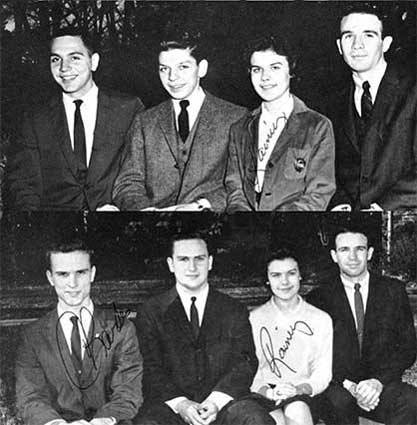 Our Senior Class Officers 1960-1961
---
---